The area features particularly beautiful landscapes with river environment characterized by an exceptionally lush and varied flora and by a fauna which has almost disappeared elsewhere.
From Sacile, or in Sacile, many itineraries can be planned: southwards in the countryside with its historical remains, or northwards at the foot of the mountains, with the springs of the river Livenza, boroughs and castles, and the pile dwellings in Palù di Livenza.
The most skilled riders can venture out to the forest of Cansiglio and Friulian Dolomites to enjoy breath-taking panoramas, ancient paths (sometimes paved), sweet slopes and arduous traits, cottages, pastures and woods. These areas, with their natural attractions, offer panoramic views on the plain below, conveying a magic serenity. On clear days, the panorama stretches to the sea.
A map of the area shows the roads commonly used by cyclist for tourism, hiking and amateur sport.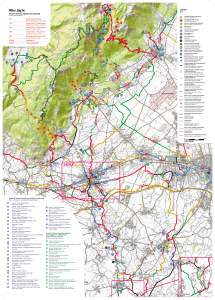 Sacile also offers an E-Bike sharing service.
Three stations located in strategic points of the city allow you to rent pedal-assisted bicycles to move quickly, independently and sustainably. You can find them
– in Campo Marzio
– in front of the railway station
– at the "PalaMicheletto" Sports Hall
For those arriving in town with their own bicycles, Sacile offers the possibility of independent mechanical assistance thanks to a column for the maintenance of the bicycle equipped with tools, air pump with universal connection and Schuko socket for E-Bike charge.
It is located in Foro Boario, a location in the city center, close to the main services and tourist attractions.
The detailed map of the city shows all the services useful for cyclists and points of historical, artistic, cultural and naturalistic interest.